Many households in Bangladesh drink water from sources already contaminated with disease-causing bacteria and viruses. Dildur Begum explores how communities in Cox's Bazar are using efficient and cheap methods to sustain clean water.
Two out of every five households in Bangladesh drink contaminated water. About twenty percent of neonatal deaths in Bangladesh in 2015 are due to bacterial infections. In addition, due to frequent floods, landslides, and cyclones, natural sources of water are polluted. Water sources are contaminated by overflowing toilets due to large-scale natural disasters.
Climate change, population growth, and the influx of large numbers of people into urban areas have combined to cause environmental disasters in Bangladesh. Environmental pollution caused by saline water in the land also has a negative impact on the quality of water in Bangladesh.
There is a difference between rich and poor in terms of access to quality water. The rich provide drinking water at home. On the other hand, poor people are forced to devote separate time and labor to fetch water from the government or any other source. One such area is Islamabad in Ward 4 of Teknaf Police Station in Cox's Bazar District. A large branch of the Naf River flows through a large part of the area. Due to which the people of a few more villages in the area are suffering from a lack of safe water.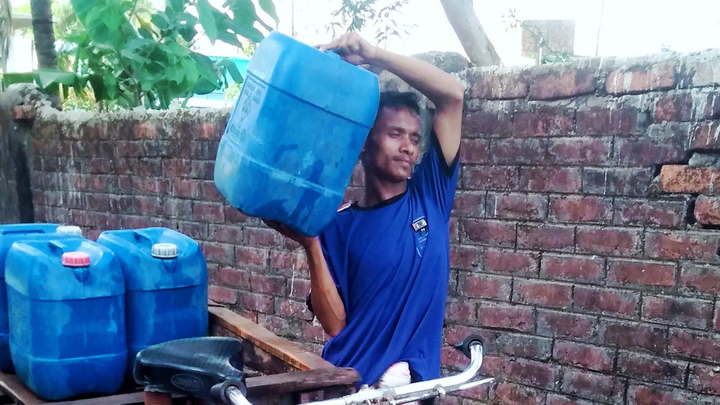 More or less safe drinking water problem is seen in all areas, including the river crossing through the middle of Islamabad, about 2% of the people are in trouble with sterile safe drinking water. Again, 1% of the people are in trouble with drinking water.
The families who used to spend their days collecting and using drinking water from far and wide in winter and other times, their life became a camel's hell during the rainy season. When there is a problem, the saltwater in the waist and knees of many households is soaked.
As a result, the bars that have the opportunity to get safe water also become salty. He cares for his children. Again, many people are drinking light saltwater from their own tube wells and going through difficult days. As a result, they suffer from various diseases like diarrhea, cholera, and dysentery. This water is being sold.
Many NGOs in the area have surveyed for help and they have not received any help. The member chairman of the area has seen the matter and Jane has nothing to do with it. I talked to a local resident of the area about this. Her name is Asiya Begum. He said that his two sons and one daughter worked as a boy in his Sami wedding ceremony and somehow, he lived a lucky life. They do not have any source of drinking water or tube wells.
So, they fetch water from a bar far away and use it. But the rainy season is coming. There is a place behind our house and on the side of the canal in front of us. We walk from there. Unable to get out of the bar, we are able to consume the rainwater and the saline water that the tidal water of the canal traps us. My children are almost sick and they are not growing up like the rest of the children. If the doctor shows us, we should drink clean and sterile water. But we are not always getting safe water anymore.
Purifying water
Water is the name of life, but if it is polluted, then water can be the cause of various diseases. So one of the oldest and most effective ways to purify water is to boil it. According to the World Health Organization, boiling water at 60 degrees Celsius or higher for 5 to 25 minutes destroys all germs, including larvae. Then the water should be cooled, filtered, and stored in a clean container. It is better to use glass or steel containers instead of plastic containers for water conservation. The container or glass in which the water is being consumed should be cleaned properly. If boiled water is left for a long time, there is a risk of germs attacking it again. For this reason, boiled water cannot be consumed for more than two days.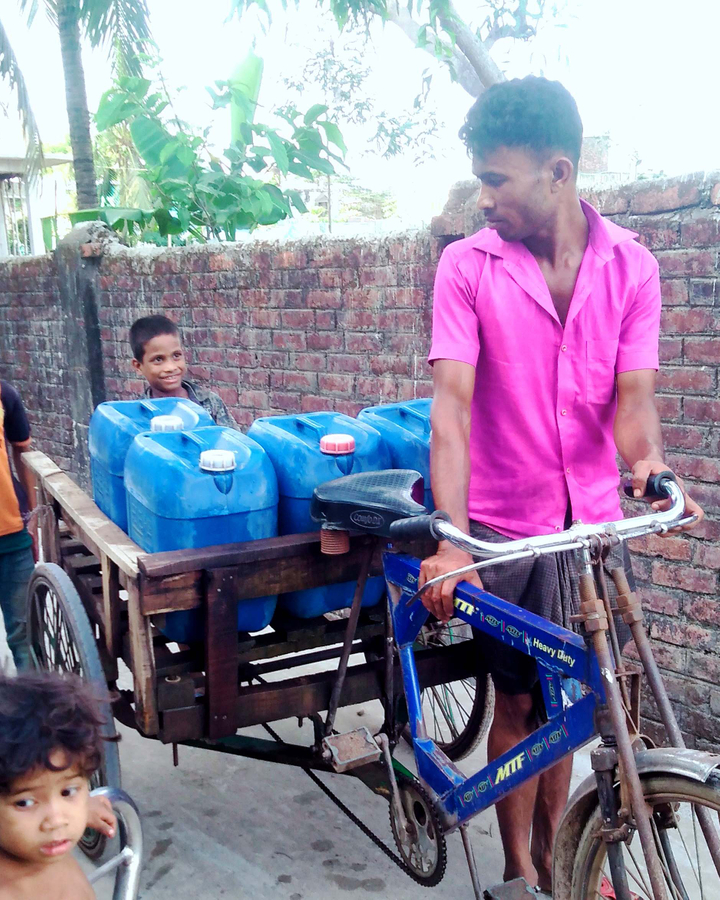 Although it is possible to get rid of harmful germs by boiling water, it can be purified through filters to be completely safe. Moreover, for those who have a gas crisis, the easiest way is to purify the water through a filter. There are different types of filters available in the market. Which is able to completely eliminate many germs as well as water odor.
There are basically two types of filters available in the market. One is a ceramic filter and the other is a state-of-the-art river osmosis filter. Most people in Bangladesh use ceramic filters. However, depending on how much pure water you get from this filter, the filter is cleaned regularly, on top of that chlorine is a widely used chemical to kill germs in tablets or bleaching water. if there is no water boiling or filtering system, the water can be purified with water purification chlorine tablets.
Generally, water can be purified through tablets when traveling to remote places or in case of disaster or emergency. pure water is usually obtained by mixing one tablet in every three liters of water or bleaching in 10 liters of water. Even if there is some odor in the purified water, if you keep it open in a clean place or move it with a clean stick, the odor will dissolve in the air.
We also make use of a small amount of alum powder in a jug of water and leave it for two to three hours, then the dirt in the water accumulates in the bottom layer. In this case, it's necessary to collect purified water from the top of the pot and discard the sediment-water.
Using these rules we can drink safe and pure water at an early stage.