In the coastal regions of Bangladesh, clean drinking water is a precious commodity. Samiha Sabur visited a fishermen community in the region to understand the problems of water collection.
Water is one of the most abundantly available resources in the world. However, it is also one of the most scarce resources for women in Bangladesh, who sometimes have to travel miles to collect it.
The crisis of pure drinking water has been identified as one of the challenges towards water security in the coastal regions of Bangladesh.
Amena Khatun, a fisherman's wife living in a coastal region of Chittagong, walks for miles to collect drinking water from a renter, who only supplies water once a day at a fixed time. She needs at least two to three buckets of water per day for household chores. These buckets of water are a precious resource, and sometimes she has to travel a long way twice in a day to fetch water. On days, when she misses collecting the water, she is left with no choice, but saline water for household work.
Not only collecting water is hard physical labor, but it also comes with risks. Sometimes women face sexual harassment on their way to collect water.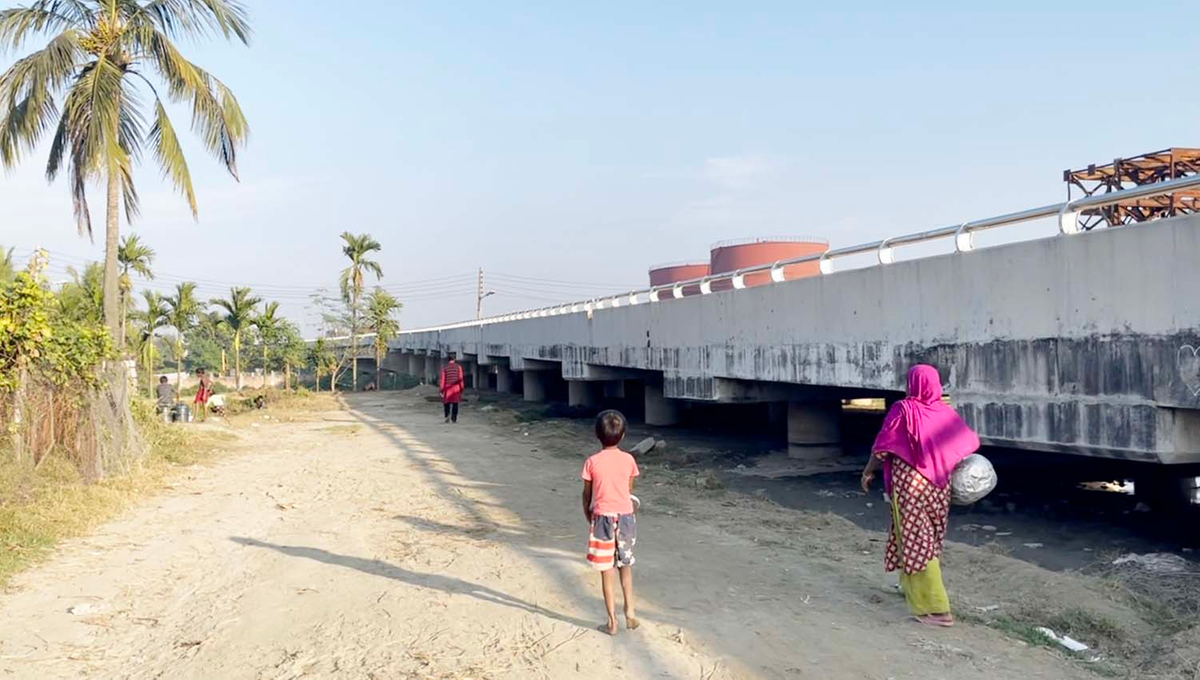 Climate change is largely responsible for the problem of accessing drinking water. The increasing salinity of water sources due to sea-level rise makes the coastal belt's water availability unsecure. Women like Khatun, who is responsible for collecting water, are therefore highly impacted by climate change.
Apart from rising salinity, factors like heavy rainfall, cyclones, and storms have added more into their daily struggles. During the rainy season, the roads to the sources of drinking water are waterlogged and become impassable for a week. During such times, women collect rainwater and store it for later use.
When rainwater serves as a blessing for a certain period, coastal flooding induced by heavy rainfall brings the saline water into the flat regions, which increases the salinity level in groundwater. As a result, the only source of drinking water, groundwater, becomes susceptible to salinity.
"When it rains, our ponds get filled with rainwater and saline water," says Khatun.
"Then, we need to collect water in other places to secure our water supply. When the cyclone hits, it causes heavy rain and flooding. The roads get waterlogged and it becomes difficult to collect drinking water. Sometimes after the cyclones, the streets are flooded for about one week," she adds.
Even the drinking water collected from renters is not clean. Khatun stated that sometimes the water collected from them tastes a bit salty. She also mentioned that the effects of climate change have had a significant impact on livelihoods. However, the poor financial condition of locals and reliance on the sea, particularly fishing, makes migration to another region difficult.
"Sometimes we don't have the money to buy water. Therefore, we store rainwater for use in difficult times. The government never sends anyone to ask about our needs and problems that we face in our daily lives."
I wanted to know how locals would solve the problem of water.
According to Khatun, if the government constructed more tube wells, women would not be required to travel long distances for water.
However, as a long-term solution, Khatun suggested the use of technologies or simple methods to desalinate the saline water, as it may help locals to have access to drinking water all year round.
I believe, it is possible to come up with an effective solution towards the problem of clean drinking water in the coastal region of Bangladesh, only if the views of the local people are taken into account while preparing a plan.