Thousands of residents are spending their days struggling for their lives on the banks of the Padma River in Bangladesh, Tasmim Alam observes.
Char Khidirpur is a village in Paba upazila of Rajshahi on the Bangladesh-India border. It once had an area of 1642 hectares. Now it has an area of 16 hectares due to river erosion. As soon as it rained on the banks of the Padma, houses were flooded and the people of Char became trapped in the water. Every year during the floods, the people of this char region suffer. At this time they take shelter in the house or in the boat with storm-rain-sun on their heads.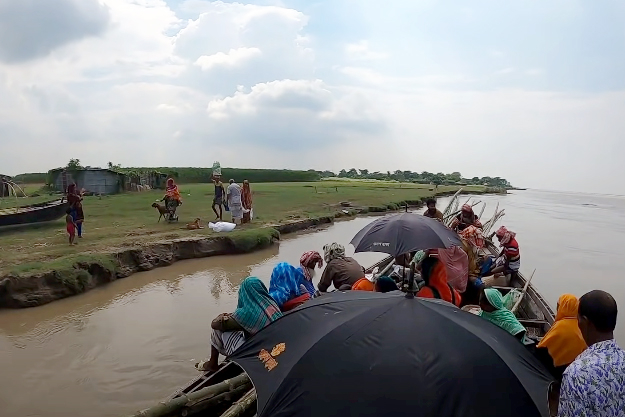 Water floods across a wide area; agricultural lands, roads, fields are almost underwater. A piece of land like this island, which was born in the silt of the river, is known in this country as Char. Char Khidirpur is one of the several chars on the banks of the Padma.
Abul Kashem and his family are residents of that char. Every year, floods, erosion and loss of shelter are inevitable in the lives of people living in different parts of the country.
Abul Kashem is one of these people. Kashem, 60, has been living in his home with his family since he was a child. This is how life on a char goes.
Living with the floods
Abul Kashem, a resident of Char, was telling what life was like during the floods. "My house was submerged in the previous floods," he said. "My two cows and one goat disappeared. Will I save my own life or the life of the animals? Now there is no indication of when the water will come again. As soon as the water of Padma rises, everything sinks. There is no work, no food, no water. Somehow I am living my life".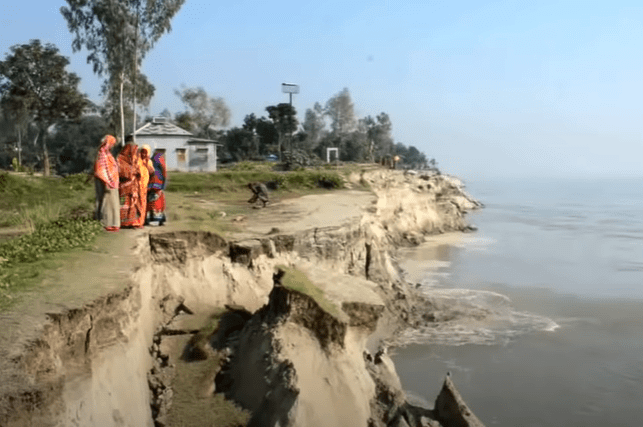 Most of these people on the banks of the Padma live from hand to mouth. 90-95 percent are extremely poor and most of them make a living by fishing in the river. In such conditions, a flood is a heavy blow.
Siraj Ali, another resident of Char, said, "I somehow managed to provide two meals a day to my family by fishing in the river. Now I am spending the night on the river in a boat.
Meanwhile, the fish are caught less in the nets due to the rising water. I am very worried about how to provide for my family."
Abul Kashem or Siraj Ali are only two of thousands of char people facing various problems when the floods came. Even if the flood waters recede, their suffering will not end. Many have lost their crops in the fields.
The submergence of tube wells has created a crisis of pure drinking water. Stomach ache, diarrhea and other ailments have increased. Many children have fallen ill. Julekha Banu, a local resident of Char, said, "Drinking water is hard to find, rice is hard to cook, there is no water. There is no pure water. My little girl has a stomach ache, she doesn't have money to buy medicine. I am living in poverty.''
These chars suffered severe food and water shortages during and after the floods. At present, the fear of water-borne diseases are increasing day-by-day amid the panic of Covid-19. Asked if any precautions were being taken to avoid the outbreak of Covid-19, Hossain Mia said, "We are now struggling to survive on two handfuls of food. The thought of getting medicine for any kind of illness is just a luxury.
If we are infected with any coronavirus, we have no choice but to accept it. We know, maybe that's how we're going to die."
River erosion in tandem
River erosion is going on in tandem with the floods. After the storms and rains, the people living on the banks of the river lose their homes and become destitute due to the erosion. "I had a house and land by the river. I lost it all after the river washed it away, and I became destitute and came to Char. I don't have enough money to buy land and build a house again. I work in the fields, and spend my days there" Ismail tells me.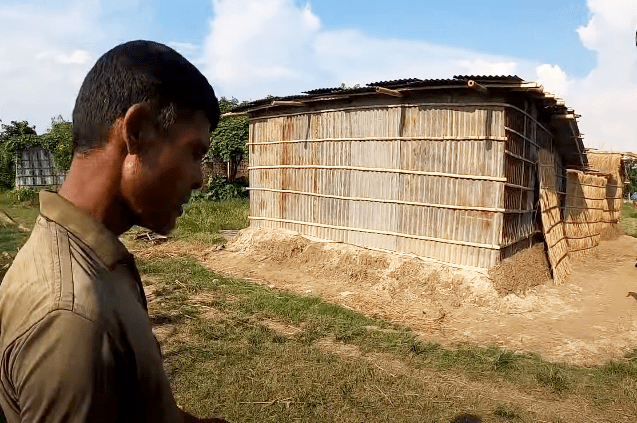 Many such people have left their homes and taken refuge elsewhere. Those who have not left home are spending time in endless misery. There are big worries. They are surrounded by all kinds of worries about when they will be able to fix their houses and get back to work.
Mofidul Islam Bachchu, UP chairman of Char Khidirpur village, said, "We have helped the people as much as we could with the amount of assistance we have received from the government. However, most of the people did not get government assistance. The people of this village, which was submerged in the floods, are in great danger and are living in great hardship."
Thousands of residents like Abul Kashem, Siraj Ali, Hossain Miah are spending their days struggling for their lives on the banks of Padma. Rain creates the struggle of life for them. Yet they continue to adapt to the effects of climate change. Fighting to survive without giving up. A little help in times of distress may make it a little easier for them to cope.