Vietnam's most southerly region – the Mekong Delta – is highly strategic. This region, home to 17 million inhabitants, contains a large part of the Mekong river's delta mouth, with an extensive coastline running over 700km from the Cambodian border to Ho Chi Minh City, the country's largest metropolitan area.
Since 2019, Royal HaskoningDHV is leading the development of the Mekong Delta Integrated Regional Plan (MDIRP) for the Ministry of Planning and Investment in Vietnam. Financed by the World Bank, the MDIRP is the first such plan to be prepared under the 2017 Law on Planning which includes a mechanism to improve coordination of sectoral and provincial planning at the regional level.
The Mekong delta, known as the 'rice bowl' of Vietnam, is one of the most productive and intensely cultivated areas in Asia.
Planning for the Mekong Delta is complex. The area is highly fertile and is the largest regional producer and exporter of rice, fruit, fish and aquaculture products, but its GDP per capita is lower than the national average. Food security policies for rice have contributed to national confidence but have constrained production of higher value crops and limited farmers' potential incomes.
Mounting impacts from climate change and upstream dams result in increased uncertainty. This is reflected in out-migration from the region, especially among dynamic younger age groups. Movement from rural areas is further fuelled by low levels of education, imbalances in regional wages and the appeal of urban areas for employment opportunities.
Despite these trends, the region has huge potential to improve its economic position due to its strategic location within Southeast Asia. Meanwhile, agricultural success has come at the expense of the environment, with associated pollution of watercourses and extensive groundwater extraction which contributes to land subsidence.
It is also the region with the least intact forest cover; remaining areas, especially mangroves, are under pressure from coastal erosion and aquaculture expansion. Other issues include widespread dumping of solid waste and weak enforcement of regulations, for example, of illegal sand mining which is known to contribute to riverbank erosion and decreases in available sediment.
Facing the twin threat of sea level rise and land subsidence, almost 50% of the region may be below mean sea level by 2050.
Within this context, setting a strategy through the year 2030 – with a vision to 2050 – with all key stakeholders, is an immense challenge. Between the 13 provincial administrations and various ministries there are many decisions, plans, and potential projects to be considered.
Under the 2017 Law on Planning, the Ministry of Planning and Investment is responsible for taking the lead and coordinating with ministries and other key stakeholders in the preparation of the MDIRP. The Mekong Delta Regional Coordination Council, led by a Deputy Prime Minister, has recently been established, to show government intent and help strengthen institutional coordination in the region.
The MDIRP is also being prepared within the framework of Resolution 120 (2017) which proposes "actively living with floods and brackish or salt water" and requires that climate change adaptation focus on the improvement of livelihoods and poverty reduction. The resolution places emphasis on the concept of 'liveability' and how that can be achieved by projects which contribute to sustainable, long-term development and a better quality of growth according to the three pillars – economic, social and environmental – as well as strengthening climate resilience within the Mekong Delta.
The strategy at the core of the MDIRP focuses on 'managing challenges' and 'creating value'. It aims to protect people, improve livelihoods, promote a more balanced regional development and improve the environment. The overall vision is of "prosperous and thriving communities, together turning challenges into opportunities, utilising and protecting Mekong Delta resources".
The strategy is based on the simple and widely accepted premise that agriculture is the most advantageous sector in the region, and that much productive land is currently being underused relative to its potential suitability for higher value crops.
The four integrated elements of the strategy are:
1. Agriculture
Promote and support the production of larger quantities of higher-value, good quality crops based on land and water suitability, by relaxing land use restrictions, providing more support to farmers and promoting improved farming practices;
2. Agro-industrial hubs
To collect and consolidate agriculture and aquaculture products locally on a sub-regional basis, and to add value, through developing processing hubs, preferably in provincial centres alongside services and other industries;
3. Transportation
Phased improvement of roads, inland water transport (IWT) and ports, as well as regional logistics, to support the processing hubs and to improve overall accessibility within the region to benefit other sectors; and
4. Water management
Protection of the core freshwater zone and coastal areas, improved water quality (especially in relation to agriculture and aquaculture), climate change adaptation and management of natural disaster risks.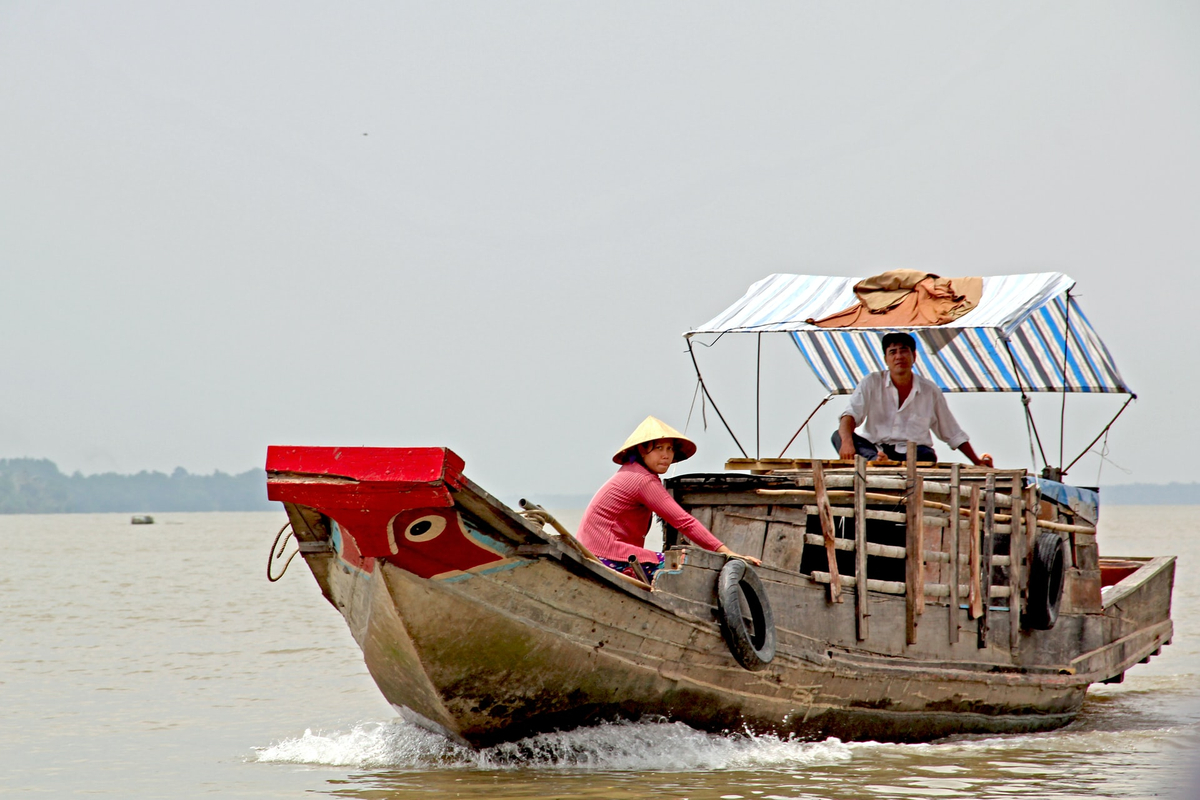 Other sectors such as tourism will benefit from improved accessibility, encouraging more visitors to the region for longer stays. Given the favourable conditions, it is also expected that power generation, especially through renewables such as off-shore wind and solar, will become important sources of income and employment for many provinces. In eastern parts of the region particularly, there will also be potential to develop other types of industry, such as textiles and electronics, due to proximity to Ho Chi Minh City and access to cheaper land.
The need for adaptation is urgent as pressures mount and the region's prosperity is threatened. As an integrated whole, the MDIRP will seek to establish "prosperous and thriving communities, together turning challenges into opportunities, utilising and protecting Mekong Delta resources".